Nyota71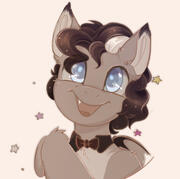 freelance digital artist
Hi everyone! I'm Nyota and I'm a digital artist
I specialize in character design, animal artwork, and cartoon illustrations - I usually draw ponies (MLP), lions (TLK), anthro and furries
Pronouns: they/them
prices are listed in the google form

button works only when my commissions are open
Busts
full bodies - simple (standard)
full bodies - complex (fully rendered)
click for full resolution
ych
furry/anthro
click for full resolution
Terms of Service
1. I'm starting to work on the commission after I receive the payment
2. Payment is made via Revolut (preferable) or PayPal
3. Try to provide a character reference and as many details as possible
4. You'll get 1-2 WIP sketches where you can change anything
5. I can change something slightly; after you accept the sketch
6. After that, there will be no refunds and no bigger changes
7. You can always check your commission progress on my Trello
8. I don't modify the finished product
9. You can't remove my signature from my art
10. You are allowed to use my art (non-commercial use) if you credit and link to my socials
11. The deadline is up to a month, but usually, it takes up to about one-two weeks
12. If you have any questions, don't be afraid to ask!Thank you for supporting me, it really means a lot!